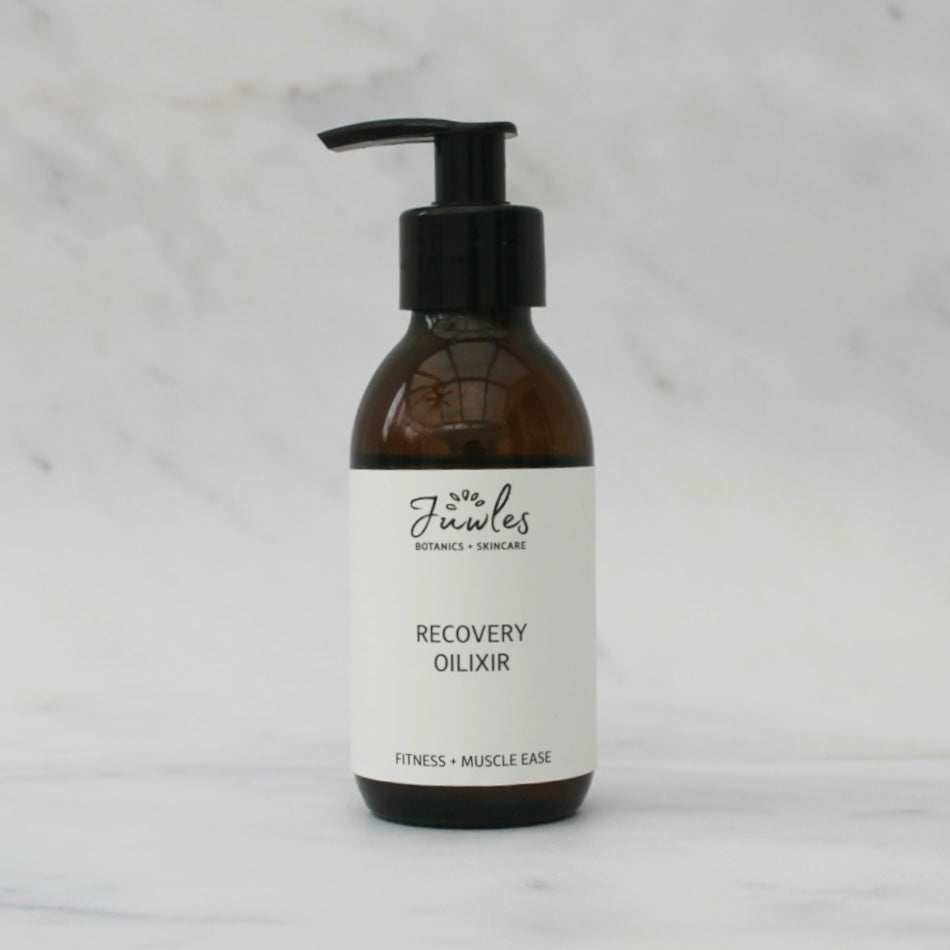 FITNESS + MUSCLE EASE
RECOVERY OILIXIR 150ML
A warming fusion of invigorating oils to stimulate and recharge tired and aching muscles. This uplifting blend revitalises the mind and body when energy levels need a lift. Recommended to use before and after exercise or to relieve general muscle ache.KEY INGREDIENTS + BENEFITS :  LEMONGRASS eliminates lactic acid + improves muscle tone PEPPERMINT uplifts + combats mental fatigue EUCALYPTUS eases muscle pain + cramp BAY LEAF regulates nervous system, eases spasms + firms the skin. EVENING PRIMROSE is rich in vitamins and minerals to hydrate + protect the skin. Other ingredients; Sweet Almond, Avocado, Evening Primrose, Vitamin E, Cypress + Clove bud. 
RITUAL :Warm the oil in the palm of your hands and inhale the aromas for a moment. Massage into your muscles using long, firm strokes focusing on areas of tension. Can be used to moisturise the body or for massage.
RECYCLE : 
Remove pump before recycling the glass bottle and label. Unfortunately pumps are not recyclable.  
If you are re-ordering, keep your pump and pick the 'screw cap' refill option with your next order. You can then reuse your pump and recycle the aluminium lid.  
If you are interested in our recycling scheme, where you can send back 4+ glass bottles please get in touch.
NATURAL  . ORGANIC  . VEGAN
---
More from this collection