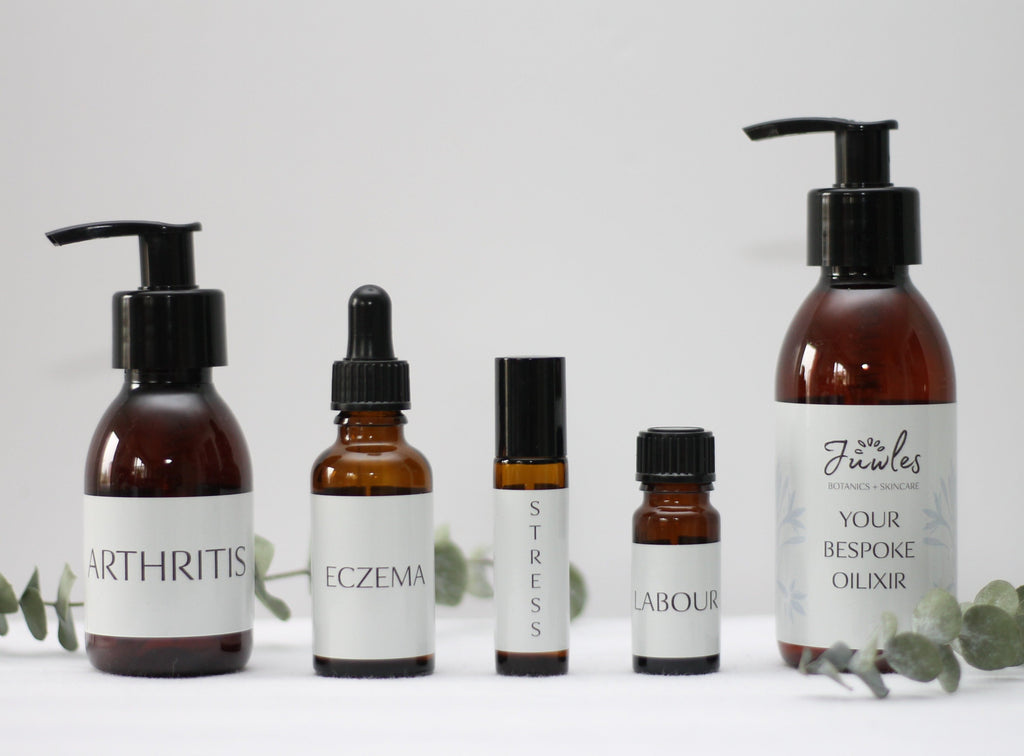 BLENDED JUST FOR YOU
BESPOKE OILIXIR
Take your aromatherapy journey to another level and let us create your signature oilixir. This bespoke service will identify your skin and lifestyle needs and we will expertly create a blend of oils to target your needs.
Whether you have anxiety, experiencing sleep problems, have eczema, psoriasis, are arthritic or pregnant, let us bring your skin, body and mind back to the perfect state of balance.
Bespoke products available:
Aroma Ball Oilixir: applied to the pressure points to restore your mind and body at any time.
Body Oilixir: an oil that can be used to massage with or a body oil.
Facial Oilixir: to hydrate and bring balance to you skin. Luxury and precious oils are used in these blends.
Concentrated oilixir: perfect to use in aroma diffusers and oil burners.
If you decide to order your bespoke oilixir, please complete the consultation form below once you have made your purchase. Please provide us with as much details about what you would like from your blend as possible. We will then email you with details of the best blend selected for you before it is made.
If you have any questions regarding this service, please email us at info@juwles.com
Perfect
Asma took time to find out what I was looking for in the blend and answered any questions I had along the way. This was a gift for a friend and we are both so impressed with the product - thank you :)
Eczema cream
I have had eczema on my hands for years and they always used to flare up I started using the eczema cream on my hands it healed my cuts and kept it moisturised even when it was flaring up within a few days it was healed and was not itchy at all totally recommend, it wasn't oily at all and had no scent to it so it will not irritate your skin.
Eye cream
I had dehydrated under eyes with very bad dark circles I started using the eye cream in the morning and before I go to sleep within a few days my under eyes had already improved and were brighter, it has also healed the dry patches under my eyes.
It has a very nice smell to it and it does not feel oily at all , it applies on very smoothly.
Fitness oil
I suffer from cervical spondylosis, and this fitness oil hs done wonders for me. I can sleep without any discomfort, i can workout without any aches and pains. It works instantly and i love the smell of the blend too!
I usually apply some before and after a workout! Its non greasy and as said above it smells lovely!!!
Perfectly blended bespoke oilixir
Thank you Adma at Juwles for making a perfectly blended oikixir for my daughter to help invigorate and de-stress. Also for the yoga blend which both she and I have to enhance our yoga experience. Beautifully packaged and prompt service. Thoroughly recommend.